Classical Guy's Guide to Classical Music
Play Carl Nielsen's 1st symphony
Still have problems with my failing soundcard... :( That is one of the main reasons I did not upload this page as much as I wanted to... I have managed to make a handful of transfers, and I hope to post them in the following weeks. So keep your eye on this page!

In the mean time, I post an other item from the: http://www.europarchive.org It's the first symphony in g minor, played by the man who was Nielsen's student, orchestral member (cello), and friend; Thomas Jensen (1898 - 1963). It's also a tribute to the disappearance of the Decca label, who as of may 1st this year lost it's idependence, and is now a hollow entity within the UJC corporation.


Greetings,
Tom



Cover of this week's LP



Monthly Listing

January 2020
195 reviews this month

Charles-Valentin ALKAN (1813-1888) Symphony, Concerto - Paul Wee (piano) rec. 2017/2018 BIS BIS-2465 SACD [78:32] [JWe] Magnificent performances, recommended to anyone who enjoys superb pianism.
Wolfgang Amadeus MOZART (1756-1791) Piano Concertos Nos 20 & 21 - Jean-Efflam Bavouzet (piano) Manchester Camerata/Gábor Takács-Nagy rec. 2018 CHANDOS CHAN20083 [65:08] [RHa] This is rapidly becoming THE modern instrument cycle of choice.
Richard WAGNER (1813-1883) Tristan und Isolde - Stuart Skelton (tenor) Gun-Brit Barkmin (soprano) West Australian SO & Ch/Asher Fisch rec. 2018 ABC CLASSICS 4818518 [3 CDs: 222.01] [PCG] A very real contender to be one of the great recordings of Tristan und Isolde.
English Piano Trios Trio Anima Mundi rec. 2017 DIVINE ART DDA25158 [77:53] [JF] Each one of these five 'trios' is special and deserves our attention.
European Organ Music Colin Walsh (organ) rec. 2019 PRIORY PRCD1223 [77:55] [MR] Truly stupendous organ music, organ playing and organ sound.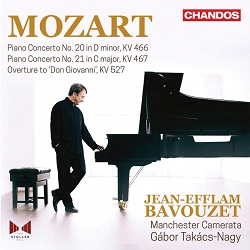 Support us financially by purchasing this from
Wolfgang Amadeus MOZART (1756–1791)
Piano Concerto No.21 in C, KV467 (1785, cadenzas by F Gulda) [28:06]
Overture to Don Giovanni, KV527 (1787) [5:54]
Piano Concerto No.20 in D minor, KV466 (1785, cadenzas by L van Beethoven) [31:08]
Jean-Efflam Bavouzet (piano)
Manchester Camerata/Gábor Takács-Nagy
rec. 2018, Stoller Hall, Manchester, UK
CHANDOS CHAN20083 [65:08]
Having read Brian Wilson's superbly detailed critique with comparisons of the 24/96 download of this disc, as well as Robert Cummings' equally enthusiastic review of the conventional disc, I only wish to add a few personal impressions. These two concertos are indubitably the most popular from the complete cycle of 27, and the ubiquity of K 467 throughout my childhood (it was without question my mother's favourite work, she played the LP daily and even in the early 1970s she could barely contain her fury regarding the cheesy Elvira Madigan nickname it acquired) makes it difficult to be objective. Like Brian Wilson I have always favoured the Bishop (pre-Kovacevich) version – it was my mum's most treasured vinyl though I have to say that as a result of more or less constant exposure to that famous Philips LP I grew weary of K 467 over time and ended up preferring K 503, to which she was indifferent.

Listening to the first movement of this account of K467 though, one cannot fail to be struck by the vernal freshness of what can so easily become over-familiar sludge. Bavouzet sparkles without ever drawing undue attention to himself. Decoration is pithy and nuanced, tasteful but present. The real revelation comes in the wonderfully vibrant accompaniment of the Manchester Camerata, an orchestra that has truly found its wings over the last eight years under Gábor Takács-Nagy. Chandos' recording is a real boon here; balance between soloist and orchestra is perfect and the detail that emerges is crisp and natural. There is also acknowledgement in the note of the context of these recordings, which took place in Chethams' wonderful Stoller Hall as part of the 'Mozart, Made in Manchester' project; the state-of-the-art acoustic of this terrific venue seems ideal for recording this repertoire.

Bavouzet pays fulsome tribute to the maverick Austrian pianist Friedrich Gulda in his characteristically modest preamble, and consequently uses his cadenzas in the outer movements. But Bavouzet goes further; he references Gulda's approach to playing the slow movement which apparently emphasised its songful, improvisatory nature against the disciplined, regular triplets of the accompaniment, and by doing so, forces one to focus upon music which over the course of my life has almost been reduced to the level of 'muzak'. Anyone who heard Bavouzet's own jazzy cadenzas in his recording of K 453 for Volume 1 of this essential series (review) will know how playful, yet apt his choices are. Unsurprisingly this recording blew me away, and Bishop-Kovacevich, Perahia and the under-rated Howard Shelley (also on Chandos) have certainly found their match.

In the case of K466, Bavouzet points up (quite literally, in three photographs in the booklet) an interesting feature of the central Romance. He suggests the thematic material of its contrastingly dramatic middle section looks back to a tiny motif in Bach's St John Passion, and forward to the Prestissimo possible movement in Schumann's F minor Sonata, Op 14 (which Bavouzet also recorded to stunning effect in 2019 - review). As a listener I cannot in all honesty say that these links are especially obvious, but one feature that does impress during this marvellous passage is the colourful playing of the Camerata's woodwind section. I am utterly unsurprised that Rachel Smith, whom I have mentioned repeatedly this year, is the producer responsible for this disc. She has achieved an exceptional balance here– it is palpable on the CD and one does not necessarily need to fork out for the 24/96 hi-res version to appreciate it. On this disc the darkness of K466 provides a perfect counterweight to the light which radiates from its sibling. Bavouzet invests Beethoven's cadenzas with a fraught, disturbed character, especially so in the first movement. The coda of K 466 is particularly satisfying – one has to stop oneself from standing up and applauding.